UPDATED: Prize winners announced below! Thanks everyone for entering and for supporting Easy WP Guide!
Disclosure: Some of the links on this page are affiliate links. We only promote affiliate programs that we believe will be relevant and useful to Easy WP Guide readers. If you follow an affiliate link to a company or product and then end up buying something, I get a small percentage of the sale for referring you. No need to worry though, your price doesn't change, so you don't pay any more for the product or service. Buying stuff you were going to get anyway through affiliate links is a great way to support this site and keep it running.
Well, I gotta say, when I first launched Easy WP Guide back in May 2011, I never thought I'd see the downloads tick over to 100,000! A big thanks to those folks who have supported & shared the site with your colleagues, friends & clients. Also, a big thanks to those that have donated some coinage. One of the big costs with the site is the hosting, due to the traffic that goes through it. Last, but never least, thanks to everyone who's downloaded a copy (or two) of the guide. It's fantastic getting emails from people telling me how much they love the guide and how useful it's been.
In celebration of reaching 100,000 downloads, I'm launching a giveaway! That's right, you can win stuff! For free!
There are three prizes in total. Two lucky winners will receive a 1 yr Developer Subscription to Elegant Themes (valued @ $89 each). Elegant Themes are a premium Theme Shop that sell some absolutely gorgeous themes. A big thanks to Mitch from Elegant Themes for offering these subscriptions to my loyal subscribers.
The Elegant Themes Developer subscription gives you complete access to all their themes! Not only that, you also get theme updates plus access to the Premium Technical Support, access to all their premium plugins as well as access to the layered Photoshop files. It's a fantastic prize and one which I'm sure a lot of you would love!
The final prize is the choice between two popular WordPress books. I'm giving the third prize winner a choice between WordPress All-in-One For Dummies
or Professional WordPress: Design and Development
. Both of these WordPress books are best-sellers by highly respective authors in the WordPress community. You'll get to choose which book you'd prefer. I'll then arrange shipment, no matter where you are in the world.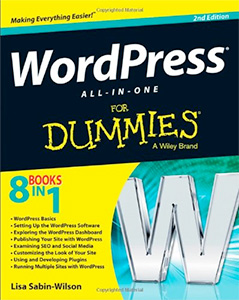 So… how do I go about winning one of these awesome prizes I hear you ask?
You can gain entries by completing one or more of the following steps. Entries are gained by "Liking" Easy WP Guide on Facebook , Tweeting our giveaway, following Easy WP Guide on Twitter, leaving a comment on this blog post or subscribing to our newsletter.
Good luck!
And the lucky winners are….
Darryl S: Elegant Themes Developer subscription
Laura M: Elegant Themes Developer subscription
Sookie: WordPress Book
The prize winners have been notified so if you're one of the lucky winners, please make sure you check your email.
Thanks everyone for entering and for supporting Easy WP Guide.
* The Giveaway Terms & Conditions can be viewed here.