Recently I had the good fortune to try out an excellent new online training service called WP Applied. WP Applied will not only teach you how to setup your WordPress site, but will also focus on generating leads and sales and offer the full range of digital skills that will help you to grow your business online. WP Applied is operated by Brian Duffy, who is an experienced college instructor. Brian is the Director of Web and Multimedia at Ballsbridge College, Dublin. If you're interested in rolling up your sleeves and getting some hands on experience in learning how to setup, configure and market your WordPress site (at a generously discounted rate as well!), then read on my friends!
One of the great things I loved about WP Applied is that it steps you through the whole process of setting up and managing a website. It's not just about setting up WordPress. Obviously that's a key component, but as well as stepping you through the installation process on a live server, you're also shown how to get a website up and running as well as adding and updating your content. It doesn't stop there though, you also learn about driving traffic with Adwords and Facebook, Content Marketing, Email Marketing, eCommerce and Affiliate Marketing, Google Analytics & Webmaster tools and a whole host of other topics. There's also a free lesson on the WP Applied homepage that you can run through, before you decide to sign up.
What sets WP Applied apart from other WordPress courses is the fact that each member gets their hands dirty with the real tools of the trade: web hosting, WordPress, themes, plugins and all the other services real online business owners use on a daily basis.
— Kevin Muldoon, Blogger, Internet Marketer, WordPress Expert
Where WP Applied stands out from a lot of other online training is that you actually get hands on experience. WP Applied consists of 20 business-focused exercises, each lasting for about 30-40 minutes. As well as the professional videos, each student is setup with their own hosting account so you can actually follow along and perform the tasks outlined in each session. Watching training videos is one thing, but the ability to get hands on experience at the same time is where WP Applied really shines. All the software and services you'll be using throughout the training are provided for free. These include web hosting, an installation of WordPress, as well as premium themes and plugins valued at over USD$500.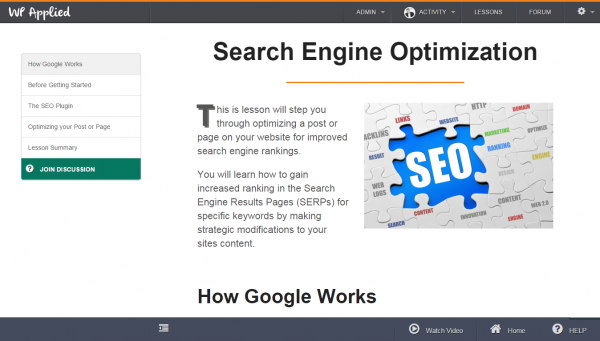 The next course starts on January 26, 2015 and all lessons are 100% on-demand which means that you can work at your own pace and at a time that's convenient to yourself. You get full access to all the lessons, free software, your practice website and support services from Brian for 3 months starting from the commencement date.
As mentioned above, Brian is generously offering his excellent training at a discounted rate for Easy WP Guide readers. Normally priced at €299 (approx AUD$445 / USD$364), Brian is generously extending his Early Bird discount rate of €199 (approx AUD$293 / USD$237). Make sure you get in quick though as spaces are limited to 50 people.
Head over to WP Applied to learn more about this great online training and enrol yourself for the January course. The sooner you start learning, the sooner you can put everything into practice!