WordPress 6.4, named "Shirley" in honour of the American singer and pianist, Shirley Horn, was released earlier this month. It's available for download from WordPress.org or you can update in your WordPress dashboard.
This latest version of WordPress brings with it a brand new default theme, Twenty Twenty-Four. Alongside the new default theme, there's improvements to the writing experience within the Block Editor, including new keyboard shortcuts, smoother list merging, some key fixes, and more.

Twenty Twenty-Four
The new default theme was designed to be used with any type of site, incorporating a collection of different templates and patterns. Using modern design trends, Twenty Twenty-Four uses an elegant serif font for its headings (Cardo) and a sans-serif system font for paragraphs. The default colour palette is light but it also includes a dark style variation. Twenty Twenty-Four is a block theme that is fully compatible with the Full Site Editor.
Writing enhancements
WordPress 6.4 brings with it improvements to the writing experience within the Block Editor, including new keyboard shortcuts in List View, smarter list merging, and enhanced control over link settings. An improvement to the way the toolbar displays for the Navigation, List, and Quote blocks helps to make those blocks easier to use.
Command Palette improvements
The Command Palette, introduced in WordPress 6.3, has had a few design tweaks along with addition of new commands to perform block-specific actions.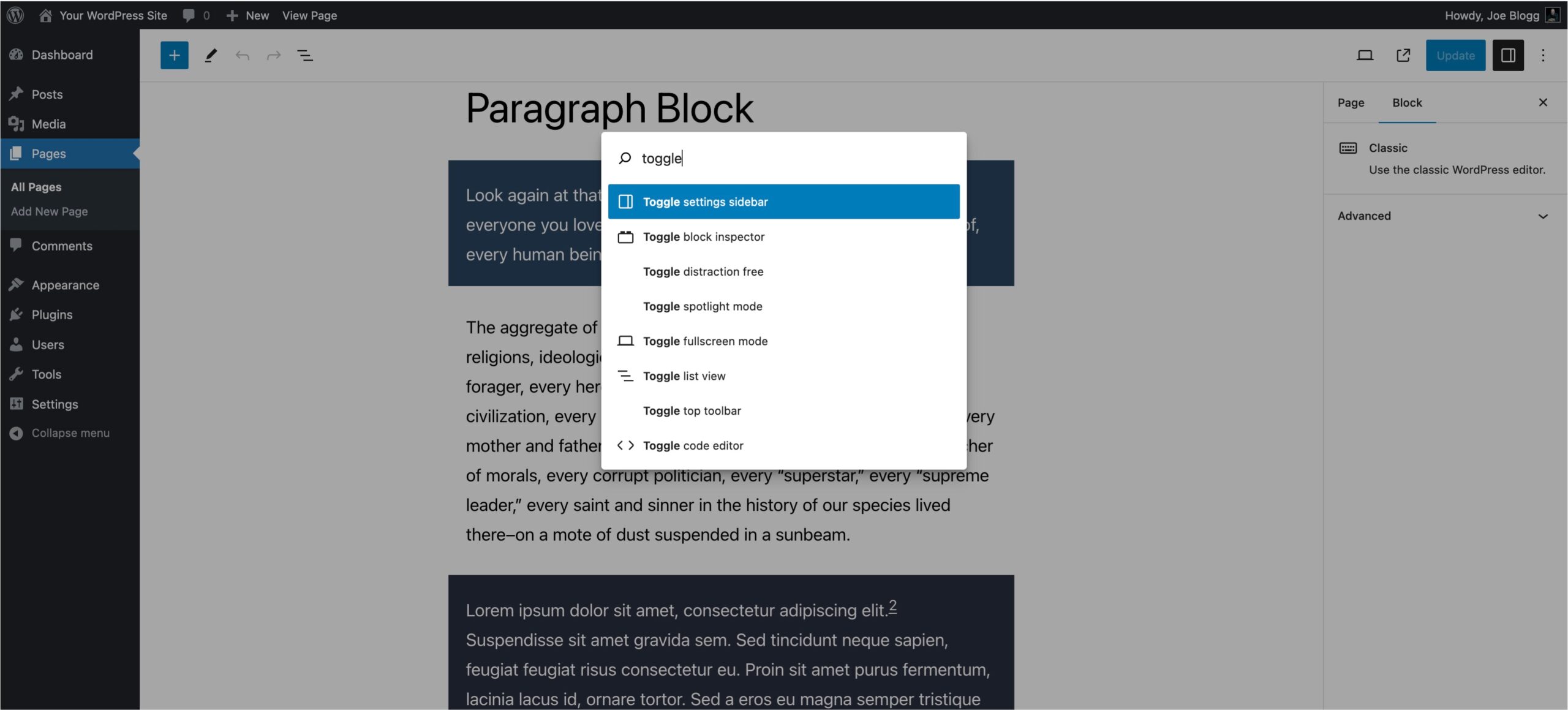 Block Editor and Site Editor improvements
Block Patterns are predefined block layouts. They're typically a group of blocks that have been pre-built and custom styled. They're also a really useful way to add content to your page, a section at a time, rather than having to build everything from scratch. WordPress 6.4 allows you to organise your Patterns with custom categories, plus there's now filtering options to make it easier to find patterns. You can also import and export Patterns as JSON files within the Full Site Editor.
It's now easier to add buttons into your Navigation menu and the Image block also provides you with an option to use a lightbox popup to display your images. When looking at your Blocks using the List View tool, Gallery and Image blocks now show tiny image previews which help you locate your images within your content.
Performance & accessibility improvements
This release includes more than 100 performance-related updates for a faster editing experience. Accessibility wise, there's several List View improvements and aria-label support for the Navigation block. The admin user interface includes enhancements to button placements, "Add New" menu items context, and Site Health spoken messages. PHP 8.1 or 8.2 are now recommended for use with WordPress 6.4.
Latest guide updates
In this latest version of the guide there's new Block images, reflecting the UI changes in the Dashboard. There's also updated descriptions for numerous blocks. All these updates ensure that what you see in the guide is exactly what you see when using WordPress. I hope that you'll find this update makes it easier for you, or your clients, to work with WordPress.
Head on over to the download page to download the latest version of the Easy WP Guide, or if you want to get stuck straight into it, you can always read it online.