WordPress 5.8, named "Tatum" in honour of musical prodigy Art Tatum, was released back in late July. It's available for download from WordPress.org or you can update in your WordPress dashboard.
This latest update sees the introduction of the Block Editor on the Widgets screen and in the Customizer, along with the introduction of new blocks as the first step of what will become known as Full Site Editing (FSE). Whilst technically you are able to edit theme templates with this latest version of WordPress, you do require a theme that has opted in to this functionality, of which, there's currently only a few that are available, none of which are included with the default WordPress themes.
Block Widgets Editor
The Block Editor in WordPress 5.8 is now incorporated into the Widgets screen and will become the default way to edit your Widgets going forward. There is however, some good news. If you wish to continue to use the old Widgets screen, you can do so by installing the Classic Widgets plugin. The Classic Widgets plugin will allow you to disable the Block Editor and instead, will provide you with the same Widget editing interface that you've been using prior to WP 5.8. The Classic Widgets plugin can be downloaded from the Plugin Directory on the WordPress.org website, or you can install it directly onto your site using the Plugins > Add New menu option and then typing in 'Classic Widgets' (without the quotes) in the Search plugins… field.
The Block Editor Widgets screen provides you with the same tools that you're used to, if you're already editing your pages with the Block Editor. Whilst the Widgets Block Editor does provide a little more flexibility with how you can manage your widgets, along with that comes extra complexity when managing your Widgets & theme sidebars.
The Block Widgets Editor is considerably harder to use than the old 'Classic Widgets' screen, and you'll now be required to insert extra blocks to provide the same functionality as you had before. As an example, if you previously wanted to add a couple of small paragraphs of text along with a heading, you could simply insert a single Text Widget. Now though, you'll be required to add a Heading  Block and multiple Paragraph Blocks just to replicate that one single Widget.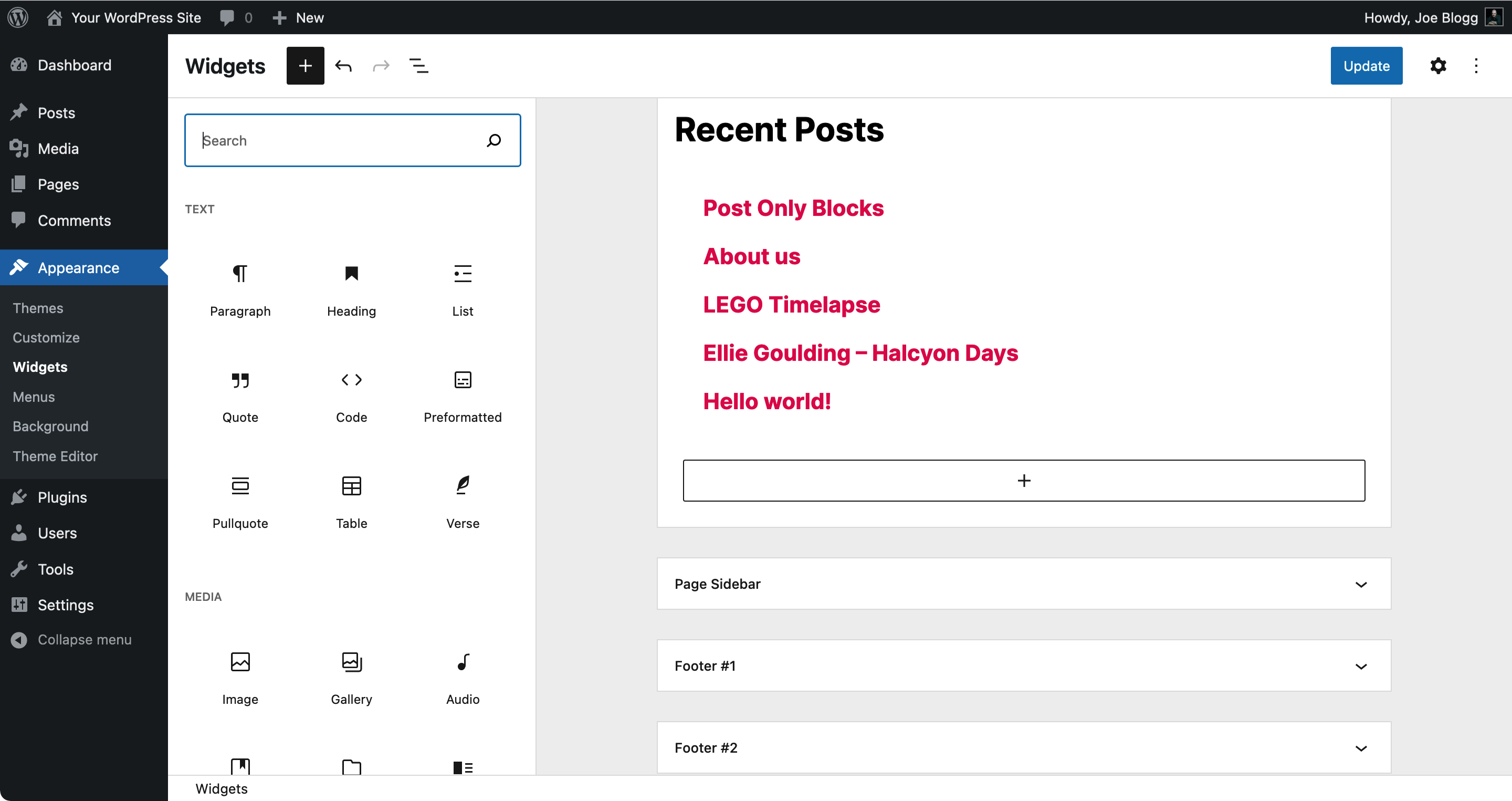 New Blocks
The Block Editor now comes with a bunch of new blocks. About 15 new blocks to be precise. The majority of these new blocks are in preparation of the new Full Site Editing (FSE) features that will be coming to WordPress. You'll find that some of these blocks won't be all that useful right now, but will become useful when your theme, and WordPress, allows editing of your site templates with the new Full Site Editing functionality that is currently under development. In fact, there are some blocks that simply wont work if you try to insert them into your Page or Post content, such as the Post Content Block as it's specifically designed to be used within a theme template rather than an individual Post/Page. There are other blocks though, such as the Query Loop Block, which allows you to display a bunch of posts within your content. This is useful if you want to display your most recent Posts or even Products, if you're using WooCommerce, as an example. Previously, this sort of functionality would only be available from a third-party plugin.
Duotone Filters
You can now colourise images that have been added to Image and Cover blocks. Clicking the Apply duotone filter icon on the Image or Cover Block Toolbar, allows you to add a coloured filter over the top of your image. Duotone filters affect the shadows and highlights of your image and work best on high-contrast images. You can use one of the predefined colour combinations, or select your own.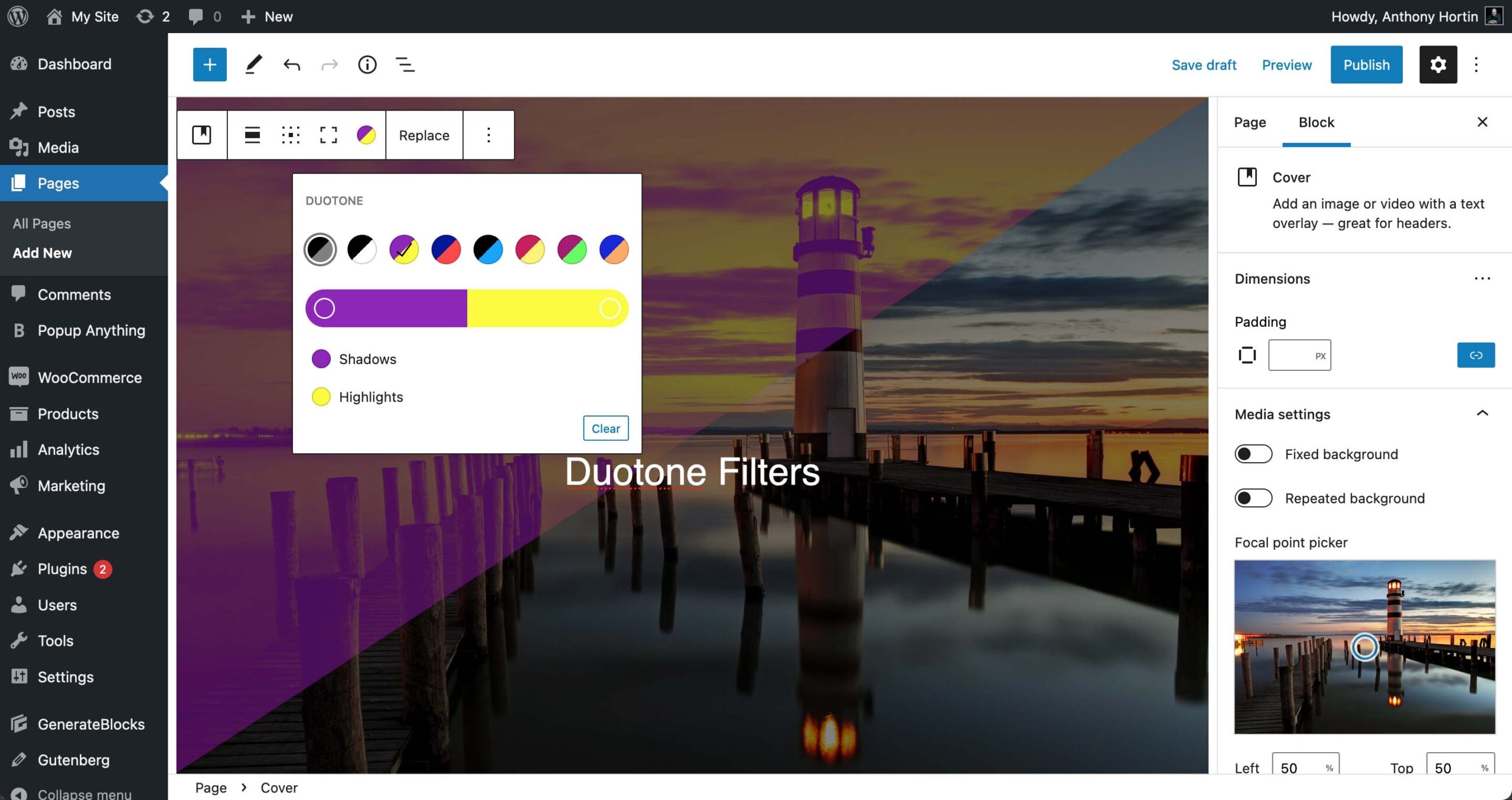 Developer Improvements
WP 5.8 brings with it the Global Styles and Global Settings APIs. These APIs control the editor settings, available customisation tools, and style blocks using a theme.json file in the active theme. The theme.json configuration file enables or disables features, and sets default styles for both a website and blocks.
Internet Explorer 11 support has been dropped as of this release. If you are currently using IE11, it is strongly recommended that you switch to a more modern browser. If security & privacy is of special concern, as it should be nowadays, then you might want to consider Firefox or Brave.

WordPress 5.8 now provides support for WebP. WebP is a modern image format that employs both lossy and lossless compression, as well as supporting animation and alpha transparency. Originally developed by Google, WebP lossless images are 26% smaller in size compared to PNGs and lossy images are 25-34% smaller than comparable JPEG images. There are downsides to consider with the WebP format though. WebP isn't supported by IE11 and only has partial support in Safari. You also need to be using the latest version of other modern browsers for it to be supported.
Even current versions of image editors like Adobe Photoshop (as of 2021), don't natively support WebP images without an additional specialised plugin. More importantly though, compression settings don't directly match with JPEG compression. WebP quality drops quite sharply.
Latest Guide Updates
It's taken quite a bit of updating for this latest version of the guide as so much has changed in regards to the Block Editor. In this latest version of the guide there's new images for every block, reflecting the UI changes in the Dashboard, and a heap of new sections for all the new Blocks that were introduced. There's also new chapters for the new Block Editor Widgets screen. All these updates ensure that that what you see in the guide is exactly what you see when using WordPress. I hope that you'll find this update makes it easier for you to work with WordPress.
Head on over to the download page to download the latest version of the Easy WP Guide, or if you want to get stuck straight into it, you can always read it online.